October 2015 – Coba Road Trip
October, 2015
The hearty souls of the Mayan Garden Club trekked through the rains on an adventure to find great bargains and authentic art works on the road to Coba. After dodging pigs and dogs in the road, the crew stopped at the great Talavera store where Victor gave super bargains. It was hard to decide what to buy with so many choices plus some great new Christmas ornaments. Lea and Muriel shopped for their new house in Tulum, and Pamela and Michael their new place in TAO Ocean.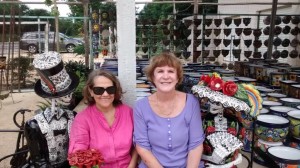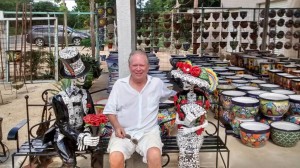 Meanwhile, Lydia, Marguerite and Dave prepared for the Day or the dead by communing with the souls of the past. Victor, the owner, especially likes group trips in low season, but you can get deals anytime. Just tell him that Marguerite from the Mayan Garden Club sent you.
Once we had our treasures, we then trekked to the vivero for plant shopping and next to find Alfredo Gonzalez at Arte Maya. He makes famous relics of the Maya museum are work. Nancy was fascinated by the statues.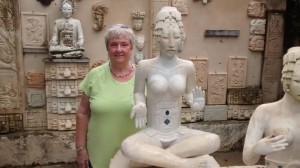 After the rain slowed, we headed back home but stopped in the Honey Store where they swear honey can cure ailments. The Honey Store, as previously noted by AkumalNow, has a great selection of honey items. Returning to quaint Tulum, we enjoyed local cuisine then headed home.
Our next trip will be in the beginning of December to Los Pinos Vivero on the North side of Playa. They will have all their holiday plants plus the incredible choices of trees, plants and spices; even a peacock if you want one.  Lupe will meet us and give us the tour plus special Garden Club prices. Afterwards, we will go to Cueva del Chango in Playa for lunch.
In December we will also have a pot luck Holiday brunch in Akumal . Come join us.
For more information check our web site Mayangarden.club or email [email protected]