Gourmet Lunch on the Ocean
Mayan Garden club enjoys a Gourmet Lunch and social at Judy's Home
We enjoyed the culinary delights of members and the home of Tom and Judy Baxter on Thursday, Feb. 15.
The food was amazing as old and new friends were able to spend time together in the unique place in Akumal Sur. We are again thinking of changing our name to the Garden and Gourmet club with such good cooks.
After enjoying the ambiance of their beautiful home, we discussed plans for upcoming projects such as beautifying the Pueblo and participating in the First Annual Akumal Art Show scheduled for the late fall. More on that later as it develops.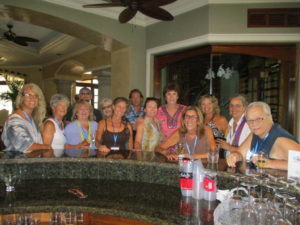 .