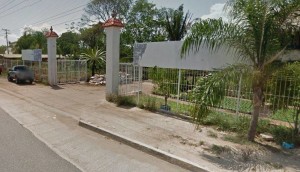 Los Pinos is a treat to wander through. Acres of plants, flowers, shrubs, trees, herbs, dirt , sod, fertilizer, pots, and planting bags, whatever you want or need to plant your garden or fruit arbor.
This is the largest nursery in the area and many smaller viveros buy from Los Pinos so Los Pinos has the best prices.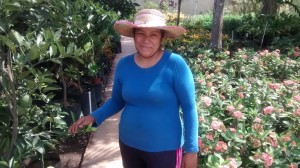 Plus they have Lupe. She speaks English and can tell you what to buy for your needs.
Posted is a picture of Lupe. Ask for her and tell her you are a member of the Mayan Garden Club and know Marguerite. She will give you the best deals. They will also come out and landscape your property and plant the gardens for you.
To get there, go north over the 307 bridge past Playa del Carmen,MX. then continue a little way to Arco Vial (by-pass)traffic light. When you are at that light, get in the left lane and make a U-turn. Los Pinos is on the right side of the road heading back to Playa. (jungle side, westside) Look for two large columns. No sign. See picture of entrance and of Lupe. Happy shopping.
They are open every day except Sunday at this time. During high season,, they may have different hours.