Mayan Garden Club Gardening Tip
Golden rain Tree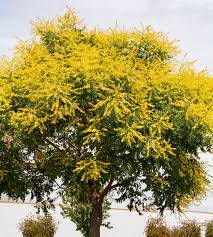 The goldenrain tree is a beautiful graceful tall tree that is covered with rare yellow blossoms hanging from it in late spring and summer, graceful paper lanterns dangling from the branches in autumn and winter.
Flowers are on a hanging stalk about 12-18 inches and bloom usually in the summer months. Goldenrain trees are hardy, thriving in the tough urban environment and an astonishingly wide range of soil conditions.
Flowers usually appear after the third year and sometimes before.
It grows up to 40 feet in height and has a spread of 35 feet so it provides a lot of shade. Because of its size, it should not be planted close to a foundation of a home. It grows rather quickly at about 1 to 2 feet a year.
Full sun is the ideal condition for this tree, meaning it should get at least six hours of direct, unfiltered sunlight each day. It is heat and drought resistant,
The tree attracts bees.
It is a great shade tree if you have the space for it. In the Yucatan it grows tall unlike most of the trees which are smaller. We recommend it for shade and beautiful flowers.