Lanatana Plentiful in Jungle
Mayan Garden Club plants of the Yucatan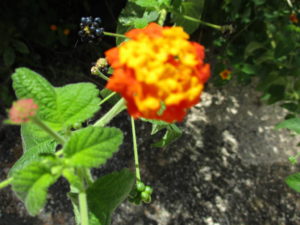 Lantana
One of the easiest plants to grow is Lantana. You will see them near the jungle and growing all along the roads. They can grow into a very large bush. The nearest to size and looks is the Confetti Lantana cultivated in the US.
Lantana is drought resistant and heat tolerant. It attracts humming birds and butterflies.
If you want to cultivate it, you can find one in the jungle and prune and fertilize it. It needs lots of sun and heat. Feed it with 12-6-6 fertilizer or whatever general fertilizer you can get in your area. Miracle Grow works well also.
If you are planting one, find a sunny spot with a lot of room. Height is 2-6 feet so space 4 feet apart if you are using the native plant shown here. Other varieties and colors grow smaller and may need less space.
Prune to encourage blooms and fullness, otherwise the plant will really spread. Pick the fruit off as it robs the plant of nutrients for the blooms.
A Word of Caution
The fruit is poisonous if eaten and the plant itself can produce an allergic reaction in a number of people. You may get a rash so be careful in handling it.
Note-pictures are wild lantana that has not been pruned or fertilized